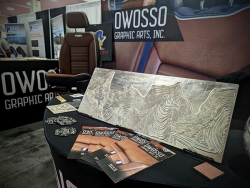 Creating a tactile feel, an aesthetically pleasing look and something that works in situations where durability is key can be tricky when designing seats. Graphic arts company Owosso is at Automotive Interiors Expo North America to share how the use of debossing can work within these parameters to achieve a high level of design in leather interiors.
The Michigan-based company uses magnesium for automotive interior prototyping tools. Doug Pendergast, national account director at Owosso, said at the show, "These tools are produced by chemically etching the metal extremely quickly and at prices that are a fraction of what a machined tool costs.
"Debossing leather and vinyl is a trend in auto interiors that continues to grow, and the use of perforation dyes that are chemically etched is also trending," he adds. "These etched magnesium tools are typically used as a prototype tool but can be used as the finished tool when the situation is right."
Find out more at Booth A222.